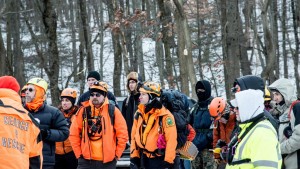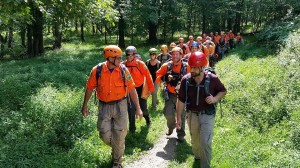 New Jersey Search and Rescue (NJSAR) is always looking for new members. As a provider of an emergency service, all Mission-Ready Members are on call for searches 24 hours a day, 365 days a year. Each member must prioritize the demands of work and family as appropriate.
Prospective new members should have a passion for the outdoors and a desire to help others. NJSAR Members are all ground searchers who are trained and equipped to spend 24 hours in the woods in all weather conditions. As such, prospective members:
need to be comfortable in the woods day or night in all weather conditions,
have experience hiking, camping, & backpacking, and
be physically fit and comfortable hiking on and off-trail with a backpack for several hours.
If that does not currently describe you then that's okay. We suggest you get some outdoor experience hiking, navigating, and camping in the woods with local outdoor groups first and then contact us when you are physically and mentally ready to perform search and rescue work.
NJSAR is a team and prospective new members should be team players. Additional desired skills include:
Navigation (GPS, map & compass)

Wilderness survival

Medical care (first responder, EMT, etc.)

Knot tying and rope work

Incident management

Leadership

Positive attitude and good work ethic
NJSAR provides in-person training to candidates at monthly general meetings, monthly drills, and evening/weekend classes. Topics cover the many disciplines of search and rescue, including search techniques, patient care & evacuation, navigation, safety, CPR, and Wilderness First Aid. Additionally, candidates complete several online courses, including IS-100 and IS-700.
Candidates are expected to attend a minimum of 10 out of 12 monthly general meetings and 10 out of 12 monthly drills in their first year. During this time Candidates are required to pass a physical fitness test that consists of hiking 5.3 miles with 1,150 feet of elevation gain and loss while carrying a 25-pound or heavier backpack in under 2 hours and 15 minutes. They will also need to obtain the required personal SAR equipment before becoming a Mission-Ready Candidate. The culmination of training is the Mission Ready Candidate (MRC) Weekend, which is a two-day overnight SAR training and evaluation. After 6+ months of training, a successful candidate would become a Mission-Ready Candidate and be permitted to participate in real searches. After 12+ months with NJSAR, a successful candidate would become a Full Member.
NJSAR's specialized Mountain Rescue, Incident Management, and Medical Units all have additional training and requirements.
New Jersey Search and Rescue is a 501(c)3 organization and all its members are non-paid volunteers. While the team has a variety of team gear essential to search and rescue, all volunteers must purchase their own personal gear and uniform. Members also incur some nominal recurring training expenses. The equipment can be acquired over time and the more experienced members are always eager to make suggestions on the many gear options. Please do not purchase any gear before beginning your training.
If you are interested in joining NJSAR, your first steps are to:
Contact our Membership Chair (Contact NJSAR)
Attend a New Member Orientation and Monthly Team General Meeting (NJSAR Calendar)
Attend a full-day Monthly Team Drill as a guest (NJSAR Calendar)
Although quite rewarding, SAR is a serious time and financial commitment. If after an orientation, meeting, and drill you feel NJSAR and you are a good fit, you can then apply to be a NJSAR Candidate by completing a Membership Application and submitting two references. If NJSAR accepts you as a Candidate, you will be asked to pay a non-refundable $175 application fee which covers some candidate materials and training.