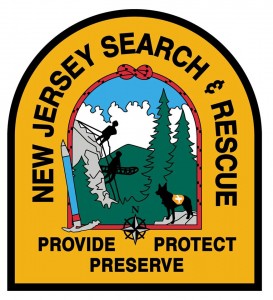 New Jersey Search and Rescue has more than 60 years of history and 50 active members who are on call 24/7/365. NJSAR is a member of the National Association for Search and Rescue, the Mountain Rescue Association and the Search and Rescue Council of New Jersey, where several NJSAR members hold officer positions. We have many individual member certifications from FEMA, NASAR, DEC, DNR, etc.
All members are trained in CPR for the Healthcare Provider, bloodborne pathogens, HAZMAT safety, crime-scene preservation, map-and-compass navigation and wilderness first aid.
Every member is required to have NASAR's SARTECH III and many members have earned the SARTECH II designation. We also have several SARTECH II evaluators and can provide SARTECH and FUNSAR training to other search-and-rescue organizations. Several members have advanced certifications in Managing the Lost Person Incident, public-information officer, Lost-Person Behavior and training for specific subjects who have Alzheimer's disease, dementia or autism.
Our operational K-9s train for 2 to 3 years before they are certified by the Search and Rescue Council of New Jersey. Only operational K-9s are permitted to search.
Some of the organizations with which NJSAR is affiliated include: